Vol. XIII, No. 9, November 2013
---
---
Editor's corner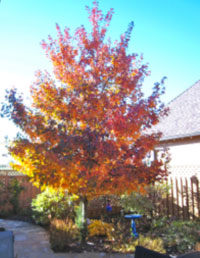 It's time to start thinking about packing your luggage to attend IAAPA next week. I'll be there the entire time. So if you would like to get together, let me know.
Although I've been traveling a lot, I have had some time in Kansas City to enjoy the good Fall weather we've been having this year. And the trees this Fall have been especially colorful. This is a photo of the swamp maple in my home's backyard.
This month we dug into research on how people are shifting a large chunk of their leisure time to the internet and the digital world. For the location-based leisure industry, it's no longer just a fight for disposable dollars. It has now become a fight for disposable leisure time. Right now it looks like the digital world is on a winning streak. This is something every venue developer, owner and manager should now factor into their competitive strategy.
We have a number of other interesting articles as well, some of which cover topics the commercial industry magazines wouldn't touch with a 10-foot (3-meter) pole.
I visited our Da Nang, Vietnam entertainment and restaurant project last month. Construction is progressing rapidly for such a large and complex project (157,000 SF building plus basement garage).


These photos show the construction of the mezzanine level – the first shows the
supports for the decking at one location and the other laying rebar for the concrete floor at another location.
I was surprised when I arrived to see that our client had constructed a very detailed model of the project.
| | | |
| --- | --- | --- |
| | | |
| Garage for 819 motorbikes & 52 automobiles | Ground level – bowling, ice skating, rides, games, edutainment, restaurants | Mezzanine level – karaoke, go-karts & party rooms |
You can now see the project in Google Earth or Google Maps. The last aerial was taken August 23, 2013. Here's a progression of aerials showing the project's construction progress.
| | |
| --- | --- |
| | |
| September 20, 2012 | March 24, 2013 |
| | |
| June 13, 2013 | August 23, 2013 |
The project has been designed to withstand typhoon strength winds and rain. Hopefully the project did not sustain any damage from Super Typhoon Haiyan that hit Da Nang yesterday.
If you haven't signed up for my blog, you are missing out on additional information that isn't included in our occasional eNewsletters. My last two blogs looked at how spending at location-based entertainment venues varies by educational-attainment and the changing composition of households since 1990 (single households now outnumber both married couples with children and married couples without children). Check out my blog posts here.
If you want to stay connected with relevant industry news and insights, follow me on Twitter.
For our readers in the U.S., wishing you a wonderful and enjoyable Thanksgiving holiday. And for our Jewish readers, wishing you a happy Hanukkah.

Vol. XIII, No. 9, November 2013
---
---