Vol. XII, No. 1, January 2012
---
---
Foundations Entertainment University partners with Amusement Expo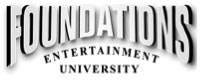 The first Foundations Entertainment University in 2012 will be held March 12-13 in conjunction with the Amusement Expo 2012 show in Las Vegas. Foundations will also be providing FEC-oriented seminars during the show.
By partnering with Foundations Entertainment University, Amusement Expo will become the premier trade show for family entertainment center owners/operators. Attendees will have the opportunity to attend the industry's #1 rated comprehensive educational workshop covering all aspects of market & financial feasibility, planning, designing, developing, and opening and/or managing location-based entertainment businesses. The two-day and one evening Foundations Entertainment University will take place on Monday and Tuesday, immediately before the March 14-16 Amusement Expo show. The discounted registration fee of only $399 ($250 less than the normal fee) for Foundations will also gain free access to the Amusement Expo show.
Kevin Williams, the editor of The Stinger Report and the world's out-of-home digital entertainment industry guru will be coming all the way from London to be a guest speaker at Foundations. Frank Price, Mr. Birthday University, will be presenting two seminars during Amusement Expo – "Service Basics to Remarkable Experiences: When Customer Service Becomes a Weapon" and "Profitable Birthday Programs for the Next Century". And Randy White, our CEO, will participate in a seminar where he shares more of his crystal ball insights into the FEC industry's future.
Registration for Foundations is posted at the Amusement Expo website. Hotel reservations are currently available at the Las Vegas Hilton for $109 per room plus 12% tax. Click here to reserve a room.
The last Foundations was a sellout and people had to be turned away. Don't procrastinate and miss out on this opportunity to attend and learn at the entertainment industry's most acclaimed and longest running seminar program.
Vol. XII, No. 1, January 2012
---
---