---
Foundations Entertainment University selected by Amusement Expo Show
The American Amusement Machine Association and the Amusement & Music Operators Association have selected Foundations Entertainment University headed by top industry experts Randy White, our CEO, and Frank Seninsky, President/CEO of Amusement Entertainment Management & Alpha-Omega Amusements & Sales to coordinate the week-long educational program aimed at family and leisure entertainment centers during the Amusement Expo 2012, to be held March 14-16, 2012 in Las Vegas, NV.
"The FEC component is a major part of the industry and we're delighted that Foundations and the Amusement Expo will be teaming up next March to deliver timely,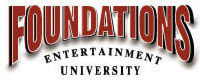 targeted information to those who are engaged in that part of the business," said Expo Chairman Gary Brewer of Brewer Amusement Co., McMinnville, TN. "We look forward to welcoming attendees of the FEC program to the show in Vegas early next year."
By partnering with Foundations Entertainment University, Amusement Expo will become the premier trade show for family entertainment center owners/operators. Not only will registrants have the opportunity to attend the industry's #1 rated comprehensive educational workshop covering all aspects of market & financial feasibility, planning, designing, developing, and opening and/or managing location-based entertainment businesses. The discounted registration fee of only $399 for Foundations will also gain free access to the Amusement Expo. Here you will be able to browse the aisles and see the newest products and services relevant to your businesses in a focused environment that is right-sized to have all their needs met in one convenient place. This will also be your only 2012 opportunity to attend a Foundations educational event at such a discounted price ($250 savings plus access to trade show). To get the discounted rate, please enter the Code Word 'WHLLG' when you register.
The two-day and one evening Foundations Entertainment University will take place on Monday and Tuesday, March 12-13, immediately before the Amusement Expo show. Foundations will also be offering six free seminar programs during the show.
Also for the first time at Fun Expo, there will be an awards presentation for Excellence in Family Entertainment Centers that will be presented by Tourist Attractions & Parks Magazine and Foundations Entertainment University.
Registration for Foundations will be posted soon at the Amusement Expo website. To receive an email notice when registration is available, fill-in your email address at the Foundations website. Hotel reservations are currently available at the Las Vegas Hilton for $109 per room plus 12% tax. Click here to reserve a room. The last Foundations was a sellout and people had to be turned away. Don't procrastinate and miss out on this opportunity.
---