Vol. X, No. 6, October 2010
---
---
White Hutchinson joins The Optimus Group

Over the years, we have often been frustrated to see the piecemeal development of many real estate projects, whether they were malls, lifestyle shopping centers, mixed use projects or planned communities. We were often called in by the developers to assist them with entertainment options. They would then work with someone else to assist them with sports or recreation facilities. As a result, the sport, entertainment and other leisure facilities would each be separate and lack coherence, so maximum synergies for both attendance and economics were never achieved. Think of the stadium with its own parking that is built across the street from a shopping complex. People attending a sporting event park at the stadium parking lot as it is more convenient, attend the sporting event, go back to their car and drive home. The shopping center doesn't get the benefit of those customers. Furthermore, the stadium makes a major investment in food service facilities and equipment that might only get used for a few hours of 50 or so days of the year.
Think of the opportunity and cost savings if the two projects were truly integrated and the design allowed the food service facilities to serve both shoppers and sporting event attendees. This is just one of many examples of taking a comprehensive and integrated approach to reduce costs and maximize traffic and revenues.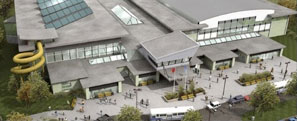 Our company and several of our colleagues decided to offer real estate developers a solution. We came together to form The Optimus Group to offer comprehensive consulting services to assess opportunities and develop solutions for truly integrating entertainment, recreation, sports and other leisure attractions. We then assist our clients with their planning, development and management.
For master planned communities and mixed-use developments, The Optimus Group identifies highest and best use opportunities for lifestyle and activity amenities. These synergistic environments combine the very best indoor and outdoor sports and recreation with leisure, entertainment and retail attractions positioned to be the central hub of activity within a community. These customized combinations of activities enhance value and differentiate the development from others.
For mixed-use projects and shopping centers, The Optimus Group creates highly customized recreation, sports, entertainment and leisure attractions to drive hundreds of thousands of visitors to the project annually. In many cases, Optimus projects serve as anchor attractions in a rapidly challenging retail development market.
The Optimus Group partners are:
Randy White, Founder/CEO, White Hutchinson Leisure & Learning Group
Jason Clement, COO, The Sports Facilities Advisory
Matt Perry, President, National Sports Services
Jeff Arnold, Project Manger, Ripken Baseball
Dev Pathik, Founder/CEO, The Sports Facilities Advisory
Since The Optimus Group serves a select group of clients, its website is password projected. For more information, contact Randy White.
Vol. X, No. 6, October 2010
---
---