Vol. X, No. 1, January-February 2010
---
---
LAN gaming centers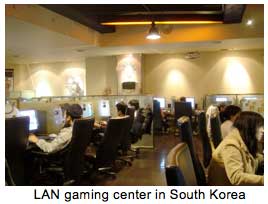 In South Korea, there are more than 20,000 Internet cafes for online and LAN video game playing, called PC bang. Though LAN gaming centers never took off to this degree in North America, there are about 600 of them. The largest, with three locations in California and one in Arizona, is Howie's Game Shacks. The centers range in size from 7,000 to 12,000 square feet and feature up to 200 state-of-the-art gaming PCs and Xboxes with high-def LCD displays and sound chairs. They offer tournaments, birthday parties and competitions to win valuable prizes. Fresh-baked pizza, snacks and beverages are available while you play.
A newcomer is RUaGamer, a 4,000-square-foot LAN gaming center with 55 gaming stations in Cary, North Carolina.
LAN gaming centers are mostly used for multiplayer computer games. Most LAN gaming centers in the U.S. are on the small side and charge $6 to $8 per hour. The largest LAN gaming center is in China with more than 1,700 player stations.
Vol. X, No. 1, January-February 2010
---
---