Vol. II, No. 9, November 2002
---
---
REPORT on IAAPA CONVENTION
by Randy White, CEO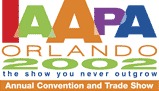 Once again I joined the annual pilgrimage of 20,000 people to the International Association of Amusement Parks & Attractions' (IAAPA) annual convention in Orlando to investigate what the location-based entertainment has to offer and to network with industry colleagues. Sore feet and one blister later, after walking past and touring all the booths of 1,295 exhibiting companies (the walk thru all the trade show isles is reported to be 8 miles), I really didn't find too much new and exciting to report.
Two major soft-contained-play suppliers are trying to broaden their product offerings by incorporating electronics and creating games within their units. Time will tell, but I have serious reservations that either will prove to have the repeat appeal to merit inclusion in community-based facilities like FECs, where success is dependent on high repeat business.
For me, what were the most innovative new products were two new rides by Zamperla - Rockin' Tugboat and Fire Brigade. Both should both prove popular and have legs. Rockin' Tugboat won IAAPA's "best new kiddie ride/attraction" award. I would question whether it is really "kiddie." Based upon its size and appearance, it may be too intimidating for preschoolers. Throughout the ride, the tugboat sways back and forth on steel tracks while it simultaneously rotates and twists, simulating a ride on the high seas.
Zamperla's Fire Brigade ride is sure to be popular with younger children. The circular ride has fire engines with platforms that lift and children shoot water at a simulated burning building. Leave it to the Italians to understand the appeal of fire engines and firemen to younger children. Since 9/11, firemen have achieved the same hero status for children as Spider Man and the Big Bird.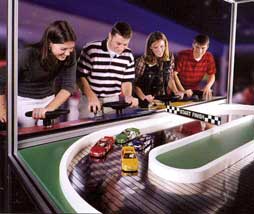 It is unfortunate that both rides are really too large for practical use in most indoor entertainment centers.
Another new product displayed at the show was Stock Car Challenger 2. It has four player stations where players race 1/24 scale stock cars. The attraction requires no attendant, can be equipped for redemption and only takes up about 8' x 8' of floor space. Priced at $10,900, I think it will prove to be a very popular attraction at indoor entertainment centers. For more information, contact Alpha-Omega Amusements at 800.253-4045.
Vol. II, No. 9, November 2002
---
---