LouLou Al Dugong's New Arabian Gulf Leisure Center Features Edutainment, Culture and Ecology.
More information about the U.A.E. and Dubai

The U.A.E. is located in the Middle East on the eastern side of the Arabian Gulf between Saudi Arabia and Oman. It is a federation of seven individually governed emirates. Dubai, with a population of about 800,000, is the most Westernized and liberal city in the Middle East. The city is growing at a rate of about 6% per year.
Unlike Abu Dhabi, the richest emirate in the U.A.E. with its large oil reserves, Dubai is building its economy on tourism and international trade. It has become the shopping mecca and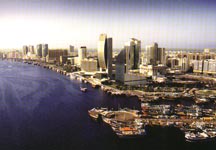 playground of the Arab world. Arabs from other Muslim countries travel to Dubai for vacations and shopping. There are 300 hotels and resorts and dozens of 5 star ones. The newest hotel, Burj Al Arab (Queen of Arabia), is shaped like a giant sail and is the world's tallest hotel at 100 stories. It is rated at 7 stars. The shopping malls are world class. The city abounds with high quality restaurants. Unlike most areas in the world, the best restaurants are usually found in the hotels, as only hotel restaurants can serve liquor. There is a large Middle East festival, convention, trade exhibition or world class sporting event almost every week in Dubai. The month long March Dubai Shopping Festival attracted 2.4 million visitors in 1999.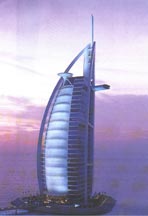 Adjoining the City of Dubai and within 30 minutes drive of LouLou Al Dugong's, is the City of Sharjah in the Sharjah Emirate with about another 300,000 residents. Sharjah is much more conservative, with no alcohol allowed.
The climate in Dubai varies from pleasant to hostile. The city has been built in a sand desert at the edge of the Gulf. It rains about 3 inches a year, usually all at once over a couple of days in February. In the winter, temperatures will go into the 50's (Fahrenheit) at night and into the mid 60's during the day. In the summer, it will often be 125 degrees with high humidity. One day when it was 115º, there was fog. It is not hard to understand why everything in the city is air conditioned.
Although the City has been built in a desert, it is surprisingly green. The government has spent millions on landscaping the City and developing an extensive parks system. A City wide distribution system has been developed to use gray waste water to irrigate all the greenery, as during the summer grass and other non-indigenous vegetation needs almost constant irrigation. The government plans to have 15% of the City's land area in greenery.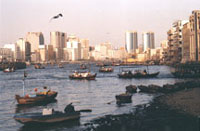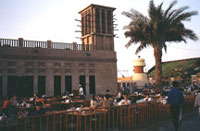 Click here to return to the main LouLou Al Dugong's page