One-Day Consultation for Learning Projects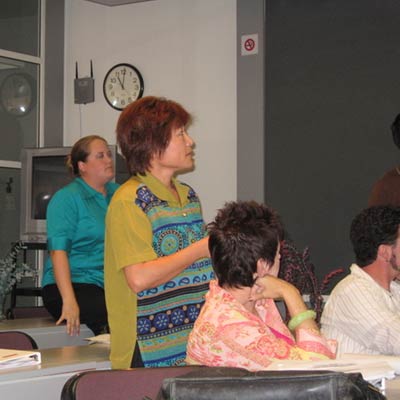 Most of our clients start their relationship with us by engaging in a one-day consultation. During this time, we can conduct a preliminary evaluation of the feasibility of the design/renovation project.
Vicki L. Stoecklin, Education and Child Development Director, will meet with you, your staff and parents during her one-day visit to insure that they have a better understanding of the possibilities for the project. She usually arrives the night before and finds an entire day necessary to understand your program and goals. Possible topics for discussion during the visit include feasibility, ease of construction, master planning, cost estimation, renovation, engaging staff/parents in the change process, utilizing local resources, safety issues, how to naturalize your outdoor space, regulatory issues and ADA/universal design. Observations will be done in both the indoor and outdoor environments to better understand how teachers are using their space. Photos will be taken of the project during the trip to share with other design team members.
Prior to the trip, Vicki will gather data and study any policies, procedures and information about your project. She will provide a survey to engage staff and parents in the design process before, during and after the visit. Resource materials will be shared as needed both prior to and after the trip.
Vicki will gather any necessary data during the trip, and after arriving back in Kansas City, she will meet with other team members to put together a proposal to get you to your next goal.
Some of our clients need assistance in selecting equipment for both the indoor and outdoor environments. Please know that our company does not sell any equipment or receive any financial or other types of gains, from any equipment we recommend. We have arranged for many manufacturers to supply our clients with a discount.
We are not sales consultants! We are an independent voice who can give you good advice about how to best approach your design or renovation project. Sometimes that advice is not to proceed with the project.
Our consultation and design fees are computed hourly based on what is called the "scope of work." Usually a one-day consultation is necessary to determine that scope of work and to better understand your needs.