Shopping Center Turnarounds and Workouts
A number of factors including overbuilding, the Great Recession, Internet sales, the decline of department stores, the experience economy and a changing consumer value equation and culture have all come together in what might be called the 'perfect storm' for shopping centers and malls. Retail and restaurant sales have declined, store vacancies are accelerating, existing tenants are demanding rent concessions and new tenants want the world to commit to a lease. Predictions are that the decline of conspicuous consumption will last well beyond the end of the current recession and that consumer expenditures have been permanently reset at perhaps only 90% of pre-recession levels.
Many shopping centers and malls are distressed, in serious trouble and searching for turnaround and workout strategies to become viable again. This typically requires a thorough analysis of the center including its tenant mix, its trade area and capture rates, its physical facility, its competition and other fact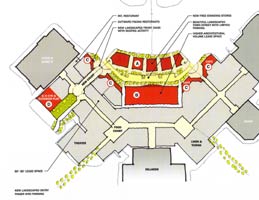 ors impacting its performance. Root causes rather than just symptoms need to determined and then addressed in order to cure the ills. Fixes are never simple or easy. An overall strategy, often requiring repositioning and some redevelopment of the shopping center, must be formulated. Such an analysis and strategy is often best accomplished by an outsider who has no prior biases about the center.
Prior to moving White Hutchinson into the leisure industry in 1989, Randy White, its CEO, was a shopping center and mall developer and manager, having developed and managed over 2.0 million square feet of retail projects. During the 1980's, Randy worked as a turnaround consultant and specialist for troubled and distressed commercial real estate projects including shopping centers. He holds the designation of CSM (Certified Shopping Center Manager) from the ICSC (International Council of Shopping Centers) and is a partner in Eatertainment Venues 4.0, an eatertainment company. Randy has over 35 years' experience in conducting market and feasibility research for retail and leisure projects.
Since moving into the leisure industry, White Hutchinson's work has included development of family and children's leisure venues, concepts and experiences for shopping centers, master planning for new malls and turnaround strategies and plans for repositioning distressed shopping centers to capture the family and young adult markets with entertainment, edutainment, play and eatertainment concepts and family-friendly features. White Hutchinson has an alliance with one of North America's top shopping center and mall master planners and with retail leasing specialists to assist it with its work.
White Hutchinson has the unique combination of expertise in understanding how to use market, consumer and other research to analyze distressed shopping centers and malls, identify both root causes of poor performance as well as market opportunities, and then how to turn those opportunities into successful turnaround strategies. The company understands both the dynamics of shopping centers and how to use leisure projects and features based upon introducing consumer experiences and not just the sale of 'stuff' to generate traffic and sales.
Additional reading: