Mall, Shopping Center & Retail Experience
Our company has had extensive worldwide experience working with shopping centers, malls, mixed-use projects and retail stores throughout the world on feasibility, concept development, master planning and design, with a focus on incorporating entertainment, eatertainment, edutainment, play and designation leisure attractions and venues into the projects and designing retail-tainment experiences.
Marketplace Shopping Center, Sioux City, IA
Consulted with owner on feasibility and concept for relocating a bowling center into a vacant big box store.
The Outlet Shops at Grand River, Birmingham, AL
Working with owner on feasibility and mix and concepts for different destination entertainment and eatertainment venues.
Centro Las Cumbres, Monterrey, Mexico
Working with this planned 300,000 square meter mixed-use project on development of an all-things-food-beverage and entertainment anchor complex with a large public gathering space.
Twin Waters, Lekki, Lagos, Nigeria
Designing 2100 square meter entertainment and restaurant venue for this shopping mall.
ABC Verdun Mall, Beirut, Lebanon
Working with developer during the concept design stage on types and locations of entertainment within the mall, including in the outdoor common areas.
Middle East mall entertainment center
We are assisting a major mall developer in the Arabian Gulf region of the Middle East with how to best integrate and design entertainment into the mall's overall design and the type of entertainment and attractions that should be offered for both families and adults. Due to the confidentiality of the project, we cannot currently disclose the developer's name or the mall's planned location.
Achrafief Mall, Beirut, Lebanon
Designing a new family entertainment center for Beirut, Lebanon's most upscale mall. The FEC will include attractions never introduced to Beirut and will take advantage of the vertical store space to maximize both entertainment value and entertainment capacity.
Olde World Canterbury Village, Lake Orion, MI
Conducted preliminary market feasibility and evaluation of this popular retail, restaurant and group business shopping center for renovation of part of one building as a destination eatertainment (restaurant + entertainment) center.
Nicosia, Cyprus
Feasibility and concept development for a 3.000 square meter children's entertainment center in Shacolas Emporium Park adjoining the Mall of Cyprus.
Hanoi, Viet Nam
Working with a real estate developer on development of concept plans to integrate entertainment, edutainment, retail-tainment, cultural, enrichment and education facilities and venues into a large urban mixed-use project with 400.000 square meters of floor area, including an enclosed shopping mall and outdoor park, on a 87.000 square meter site.
Uralsk (Oral), Kazakhstan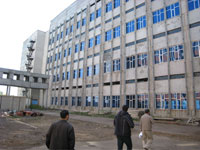 Developing design plans, cost estimates and financial projections for renovation of 24,000-square-meters of industrial buildings in the northwest Kazakhstan city of Uralsk (also known as Oral or Ural'sk) as a mixed-use adult and family entertainment and restaurant anchored retail trade (shopping) center.
Story Stores, Inc. – RoadStoryUSA
Assisting Story Stores with concept development, attendance and financial projections and design of their innovative RoadStoryUSA concept that combines learning, playing, shopping, and dining.
Experiential retail store, Ukraine, Eastern Europe
Worked with a Ukraine retail chain to incorporate family and children's entertainment, edutainment, enrichment and dining components into their stores to grow their brand to experiential retail.
Celebrate Virginia, Fredericksburg, Virginia
Assisted Celebrate Virginia, a 2,400-acre master planned mixed-use development in Fredericksburg, Virginia, that includes the East Coast's largest power center with 2.4 million square feet with feasibility of family-based entertainment venues for the project.
The Mall at Marathon, Nassau, Bahamas
The mall is planning a new entertainment anchored addition. White Hutchinson has been retained to determine feasibility and develop the mix for relocation and expansion of the existing family entertainment center in the mall, Mr. Pretzel's Entertainment Center, to the new addition.
West Oaks Mall, Houston, Texas
This 1.1 million square foot mall was built in 1984 and is located on the west side of Houston. The shopping complex has six anchor tenants – Dillard's, Macy's, Linens-N-Things, Foley's, Steve & Barry's and Sears. Several years ago, the interior of the mall underwent an extensive renovation, including the addition of a food court with a two-story, open hearth fireplace.
The mall was purchased by Investment Properties of America in 2005.
Due to increased competition, the mall is not performing at its full potential. Investment Properties of America has retained White Hutchinson to assist them in repositioning the mall as "the" family-friendly mall in west Houston. White Hutchinson is acting as design director for the addition of a new lifestyle center complex to one side of the mall and the redesign of the end of one wing of the mall, and has been retained to develop a 20,000 square foot indoor, 10,000 square foot outdoor children's edutainment (play and discovery) center to act as an additional anchor attraction. White Hutchinson is also assisting IPoA with market research and development of a repositioning strategy.
Doha, Qatar family leisure center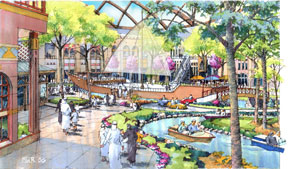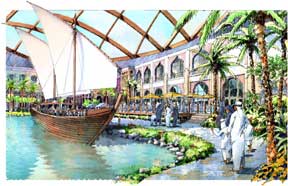 Completed a market and economic feasibility study and master plan and design concepts for development of an 80,000 square meter family leisure project targeted to Qataris and Gulf Arabs that includes retail, restaurants, cinemas and theater, family entertainment, children's edutainment, offices, ladies club and spa, teenage girls club and a children's enrichment center.
Buena Park Mall, greater Los Angeles, California, USA
Conducted site and market evaluation and developed recommendations and concepts for creation of a unique children's play area near the food court that would be based on local history and be an attraction for the mall.
York, Pennsylvania Mall Family Entertainment Center & Children's Edutainment Center
Early in 2001, WHLLG completed a market feasibility study for development of a 30,000 sf family entertainment center in a major York, Pennsylvania mall. WHLLG is currently developing schematic designs for the center, which will feature a family entertainment center, a children's edutainment center and seven birthday celebration rooms. The children's edutainment center will include an outdoor adventure play garden featuring a dinosaur dig, pretend fishing, boulder climbing and do-it-yourself campfire cooking.
River Place, Frankenmuth, Michigan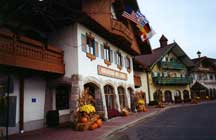 The owners of this popular destination 1.5 hours north of Detroit selected WHLLG to integrate entertainment into their new River Place project, a 90,000 sf European-styled retail village. Frankenmuth currently enjoys over 1.5 million annual visitors. WHLLG completed a feasibility study and developed preliminary plans for a 25,000 sf integrated EuroMarket Bistro restaurant and family entertainment center for the project.
Johnny's Toys, Covington, Kentucky (Greater Cincinnati Area)
The owners of this chain of toy stores have retained WHLLG to design and produce a 10,000 sf children's edutainment center which will be located in their relocated and expanded 45,000 sf Covington toy store. The edutainment center is being designed for families with children up to age 8 and will feature 14 different play events, two birthday party rooms, a café serving both guests of the edutainment center and store customers and a one-half acre outdoor children's adventure play garden. Click here to learn more about this project.

Sana'a Trade Center, Sana'a, Yemen
The owners of the Sana'a Trade Center, the only indoor mall in Sana'a, Yemen, a traditional Islamic country in the Middle East, have retained WHLLG to conduct a feasibility study and develop plans for a three-story, 45,000 sf addition to the Trade Center which will include a family entertainment center and a celebration/hospitality hall.
Lamcy Plaza, Dubai, U.A.E.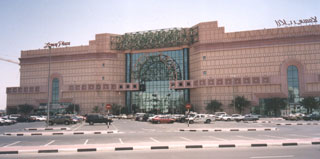 WHLLG designed and produced LouLou Al Dugong's, a 25,000 sf, $3.1 million children's edutainment center that opened May 2000 in the 450,000 sf Lamcy Plaza, one of the world's largest department stores. Part of the strategy for the center was to increase Lamcy Plaza's appeal to the upper income Arab population. WHLLG developed a culturally-based theme for the center that embraces the multi-ethnic composition of the population, the area's heritage as both an Arab culture and an international trading port and local children's environmental values. The center's storyline is about a mascot character named "LouLou al Dugon™" (Pearl of the Sea Cows) after the endangered Persian Gulf dugongs (related to manatees) and the city's pearl diving heritage. WHLLG's work included all aspects of design, production and management, including screening and training staff. Click here to learn more about this project
Funderland, Foothills Mall, Tucson, AR
Foothills Mall in Tucson, Arizona, choose to incorporate a free play area to attract families with children. The free play area, called Funderland, is integrated into the central food court and covers 3,000 square feet of space. Rather than rely strictly on soft contained play (SCP) equipment, which basically offers only physical play to children, WHLLG design used edutainment play, which is developmentally appropriate play where children 7 months through about 9 years learn by hands-on discovery and spontaneous free play. The play area offers a variety of social, pretend, construction and physical play that appeals to the four different development stages of children 9 and younger. In addition to SCP, the area includes a pretend village with a supermarket, video rental store and restaurant;; interactive water play and an infant/ toddler play area.
The play will be contained within an area defined by railings with only one entrance, which offers parents a secured space for their children. The play area also includes ample seating for parents who want to sit and eat near their children while they play.
The edutainment-oriented play area was added for the strategic purpose of increasing the mall's appeal to the dominant college-educated, knowledge-worker family segment of the mall's market area. Our company's market studies for the developer showed that more than one-third of households in the market area were families with children, with the majority being both college-educated with white-collar employment and also having younger children. Although Foothills Mall's multi-screen cinema is an important entertainment anchor, and the Sega game room added another entertainment component, neither had high entertainment appeal to parents who visited the mall with children nine years old and younger-the true family market.
Foothills Mall's food court play area was designed to appeal to not only the family market, but also the homemaker market, one that can generate substantial non-peak-time weekday business. Homemakers are always in search of locations they can visit regularly, where they can meet their friends and socialize while their children play nearby. Food courts make a great location for meeting with a food selection better than that of fast food restaurants with indoor play spaces. Each time the homemaker comes, there is a high probability she will make some other purchases.
Unicentro el Marqués, Caracas, Venezuela
Our client in Caracas, Venezuela, added children's entertainment and edutainment to their open mall shopping center, Unicentro el Marqués, for strategic repositioning purposes and to create an additional profit center. The shopping center was about twenty years old and, despite its continued success as the second highest trafficked shopping center in the city of 7 million residents, new competition had resulted in the center's customer base slipping down the socio-economic ladder to predominately Class C customers (middle class). The goal was to increase the center's market share of Class B (upper-middle class) and Class A-minus (lower upper class) residents. As part of the shopping center's remodeling, the owners also wanted to add a new anchor tenant.
The solution was to take a third-level exhibit space and renovate it as Dinotropolis, a 50,000-square-foot children's entertainment center that includes rides, a SCP unit, games, edutainment and play areas, and six birthday party suites that can accommodate parties with as many as 100 children each. A storyline and design theme was developed about a civilization of intelligent dinosaurs called Momosauros and their king, Max. The center was opened in July 1996. Dinotropolis has been great success. As a new entertainment anchor, it has not only attracted the higher socio- economic families and increased the shopping center's traffic, but it is a highly profitable business and generates rent for a former marginal space. Over two-thirds of the parents who bring their children to Dinotropolis are women, who control an even higher share of spending decisions in the Latin American culture than in the States.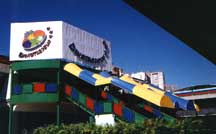 Worcester Commons Outlet Center, Worcester, MA
WHLLG worked with the owner of this downtown mall to evaluate the market, the mall's position in the marketplace and develop strategic options to increase the entertainment mix.
Universal Mall, Detroit, MI
WHLLG conduced market feasibility studies and developed concept plans for development of a children's entertainment center to serve as an additional anchor tenant for the owner's of this mall.
Cottonwood Corners, Albuquerque, NM
WHLLG conducted market feasibility studies and make strategic recommendations for entertainment facilities to be included in the mix of this new shopping complex.
Panama City, Panama
The owners of an existing shopping center retained WHLLG to evaluate the feasibility and develop concepts for development of a family entertainment center to serve as an additional anchor for the center.
Olde Byfield Center, Newburyport, MA
The owner of this troubled outlet center was interested in developing a family entertainment center as part of a turn around strategy. WHLLG conducted a market feasibility study and advised the owner the market area was insufficient to support such a venture.
San Jose, Costa Rico
WHLLG conducted market feasibility and developed concept plans for the development of an entertainment/retail mall.
Uralsk (Oral), Kazakhstan
Developing design plans, cost estimates and financial projections for renovation of a 12,000-square-meter former four-story industrial building in the northwest Kazakhstan city of Uralsk (also known as Oral or Ural'sk) as a mixed-use adult and family entertainment and restaurant anchored trade center.
Lamaca, Cyprus
Evaluated preliminary plan for an airport-based retail mall and advised client on entertainment components, sizes and layout.
Beirut, Lebanon
Advising developer of a new mall on space requirements, location and how to best integrate entertainment and edutainment experience in the design of the mall.
Greater Seattle/Tacoma area
Designing a social-tainment center as part of a new shopping center that includes a destination restaurant, bowling, laser tag, game room and group meeting spaces.
Hyderabad, India
Working with a joint venture of a mall developer and operating partners on feasibility and concept development of a children's discovery museum.