Vol. XIX, No. 6, July 2019
---
---
Art-inspired mini-golf and eatertainment
by Linda Beckring
We're been reporting on all the new, different and unique types of out-of-home entertainment and leisure venues competing for a share of consumers' leisure time and now competing with the more traditional forms of location-based entertainment, including family entertainment centers. Linda Beckring in our office recently attended a limited-time unique event, so we asked her to report on it.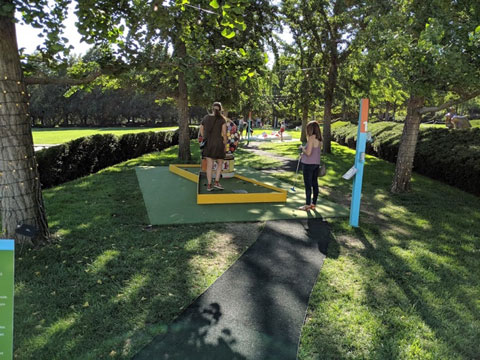 The art-inspired mini-golf trend as well as eatertainment has arrived in Kansas City at our very own Nelson Atkins art museum. Last weekend my husband and I had the pleasure of putting and picnicking at this Kansas City landmark where the south terrace has been transformed into a 9-hole mini golf Art Course.
Advance tickets are required as each ticket has a specific time. This keeps the course from becoming too crowded and makes everything flow nicely. There were still a few bottlenecks but all in all this system worked well. Tickets are available online at the Nelson Atkins website at a cost of $14 for adults and $9 for children. There is a discount for museum members.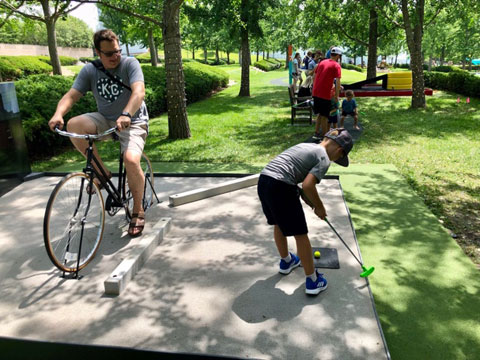 At the course, the experience begins with a quick check in where your ticket is scanned and you are given your putter and golf ball, then it is off to golf!
If you ever have had the urge to touch the art at the museum this is your lucky day. All 9 holes are based on art on exhibits at the Nelson and each one is its own interactive masterpiece. You can play croquet with French impressionists, make music on a Kandinsky or launch your ball through a Ming vase. My personal favorite was based on Girl with Bicycle, Dublin where you putt through the rear wheel of the bicycle. Your golfing partner can make this more difficult by getting on the bike and pedaling. The course ends with a miniature version of the museum itself where you launch your ball over the roof of the museum and if you are lucky land it directly into a mini version of one of the museums beloved shuttlecocks.
It was a fun and social experience, filled with couples on date nights, young families and singles. There is a snack bar which provides both alcoholic and non-alcoholic drinks, locally made ice cream chips and other snacks. There are benches scattered throughout the course, drink holders at each hole and plaques depicting the work of art each hole referenced, giving players and on lookers a comfortable experience. All in all, the course took about 20-30 minutes to play.
While the golf course is open daily (except Tuesday) from 10am-5pm, Fridays are special. Not only are their hours extended until 9pm (the extended hours are available on Saturday too), but they also offer you the opportunity to have your very own catered picnic on the grounds. It's the perfect way to extend your evening, be it date night or family-centric, by enjoying the beautiful south lawn of the Nelson, enjoying a delicious meal and even listening to some live music.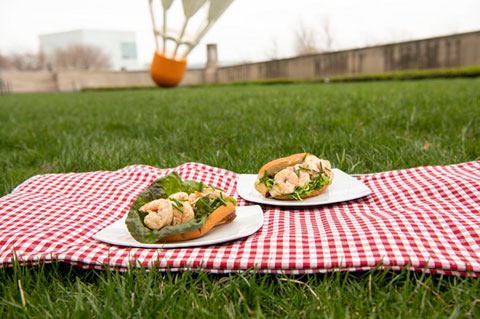 When you are ready to picnic, simply go up to the snack bar and check out the menu. What does a museum mini-golf exhibit serve for dinner? Well we dined on a vegan tempeh barbeque wrap, a caprese salad and one of the best strawberry shortcakes I ever tasted. If these offerings don't suit your taste, you can try their creole shrimp roll or perhaps their Italian sub. When you place your order, you give your phone number and receive a text when the food is ready. Just head back to the snack bar when you get your text and you are handed a wicker basket filled with your food. And what if you forgot to bring your picnic blanket? No worries! You can purchase a classic red and white gingham picnic blanket for $10. It is the perfect backdrop for an Instagrammable meal.
The warm evening was beginning to cool off just as we were finishing golfing. After placing our dinner order (and purchasing a blanket!) it was easy to find a quiet, shady spot to spread out and relax. However, there were picnic tables available as well if sitting on the ground isn't to your taste. It has been years since I have had a proper picnic and the experience of the wicker basket, the checkered blanket and the logistics of trying to eat a caprese salad on the ground, all made for a one-of-a kind memorable experience. And did I mention that the food was delicious?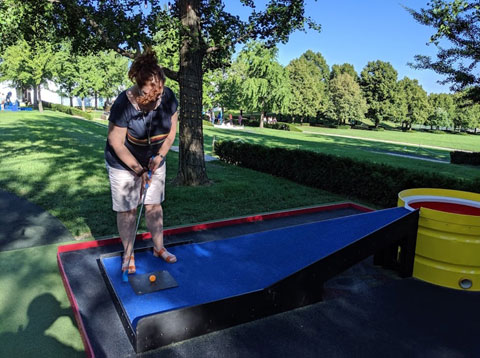 We spent about 90 minutes to two hours on the golfing plus dinner. The total outlay for this unique experience came in around $65 for two people including tickets, drinks, dinner and a picnic blanket.
If you are planning a visit, it is important to note that time slots are sold in advance to avoid crowding and the weekend picnic and mini golf sell out fast. And, of course, this is a limited time offering so make sure to get there before Labor Day. Limited time, unique and social experiences are the biggest trend in the leisure industry right now and the Nelson Atkin's version doesn't disappoint.
Happy Golfing!
Also see our other article in this issue on new type community leisure venues.
Vol. XIX, No. 6, July 2019
---
---