Vol. XIX, No. 2, February 2019
---
---
The mindful low- and no-alcoholic trend
A decade or so ago, customers at restaurants and bars who abstained from alcohol were limited to sipping a soft drink, tea, coffee or water while their friends imbibed in cocktails, wine, spirits and beer - but that is no longer the case. In today's environment, there is a fast-growing trend of no- and low-alcohol offerings. Consumers, especially younger adults, are taking the alcohol content of their drinks into account when they go out drinking. Diageo, the world's largest producer of spirts and a key producer of beer, identifies low- and no-alcohol as the number one drinking trend for 2019.
Young people, especially, are consuming less alcohol. A 2018 report from Berenberg Research found that respondents to their survey of 6,000 GenZers age 16 to 22 were drinking over 20% less per capita than millennials did at the same age. In additional, nearly two-thirds (64%) of the respondents said that as they grow older, they expected to drink alcohol less frequently than older generations currently do.
A recent survey from Pew Research Center indicates teenagers are abstaining from alcohol. Only one-in-sixteen of U.S. teens age 13 to 17 (6%) say they feel a lot of pressure to drink alcohol. Drinking alcohol is now no longer a social norm among teens.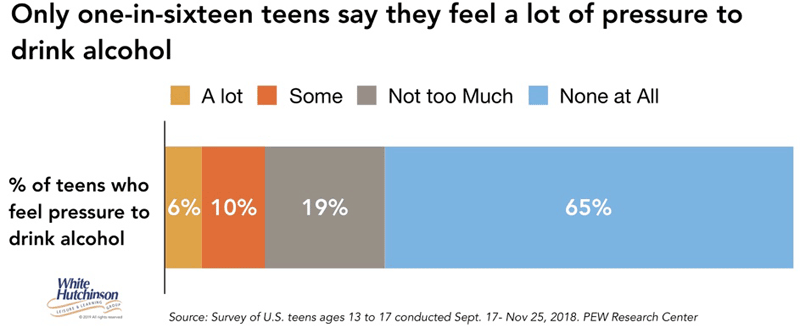 The Gen Z respondents said they drink less because of health and hangover-related concerns, as well as worries about being judged by friends or parents. "Twenty years of anti-drug, anti-smoking and anti-alcohol education has done its job: It is no longer 'uncool' to not drink or take drugs," Berenberg analysts wrote.
According to the Monitoring the Future Study - an annual national survey of 50,000 adolescents and young adults in America - alcohol use has dropped steeply since the 1990s.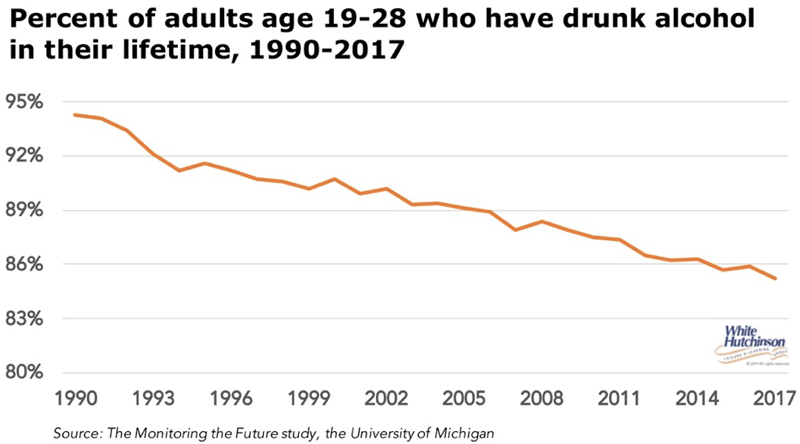 Researchers say that teetotalism is becoming increasingly "mainstream" among younger generations, where drunkenness is now deemed less acceptable.
One reason for the increase in nonalcoholic booze among young adults is the surveillance culture, constant social-media surveillance. Many younger adults are drinking less alcohol because of fear of losing control while drunk and having the evidence shared on Snapchat, Instagram or Facebook.
"Control has become a key watchword for today's younger drinkers," said Jonny Forsyth, a global food-and-drink analyst at Mintel. "Unlike previous cohorts, their nights out are documented through photos, videos, and posts across social media where it is likely to remain for the rest of their lives. Over-drinking is therefore something many seek to avoid."
Pamela Rutledge, the director of the Media Psychology Research Center in California, in a 2018 Vice's Munchies blog said something similar. "Before social media, embarrassing behavior, while likely gossiped about, was visually undocumented. Therefore, the embarrassed person was unlikely to have to face up to their behavior in any meaningful way," Rutledge said.
"Social media increases accountability for one's actions," Rutledge continued. "People like to control their public image on social media since it is permanent rather than ephemeral. Embarrassing 'moments' are no longer moments but posted in perpetuity for all to see without engaging in damage control."
According to a Red Brick Road and Opinium survey, British 18-25-year-olds feel that "drinking is no longer a performance-enhancer but a threat to holistic health and productivity." The survey found that 75% of Gen Z interviewed feel it is important to be in control of all aspects of their life at all times (compared with 49% of Gen Y/X), naming work or study as their number one priority, rather than socializing or partying "In a world [where It's] increasingly difficult to get ahead, they see a hangover, lighter wallet and a sloppy social media presence as a competitive disadvantage."
Wine is providing inspiration for a new wave of non-alcoholic drinks. Napa Hills offers "enriched waters" that are a blend of fruit-flavored water and VitaRes (an antioxidant blend with extracts of resveratrol, red grape skin and red wine extract)-that's said to offer the same antioxidants as a glass of red wine. And Israeli brand Wine Water last year launched O.Vine, a line of alcohol free, grape-infused waters that the brand says have the "health benefits and antioxidants of the real thing, all without a trace of alcohol."
And cocktails are not to be left out of the zero-alcohol trend. The younger demographic has a noticeable differing consumption habit where it comes to cocktails, with 46% of people under the age of 35 likely to order a mocktail (zero-proof cocktail) for a variety of reasons, versus just 16% of over-35's. The same trend has been recorded in Australia, the U.K., and several European countries.
Mocktails are appearing on the drink menus of many restaurants and community-leisure venues. New school social eatertainment venue Punch Bowl Social that targets a younger demographic features four hand-crafted, zero-alcohol cocktails on their non-alcoholic menu under the heading "Built and Mixed Without."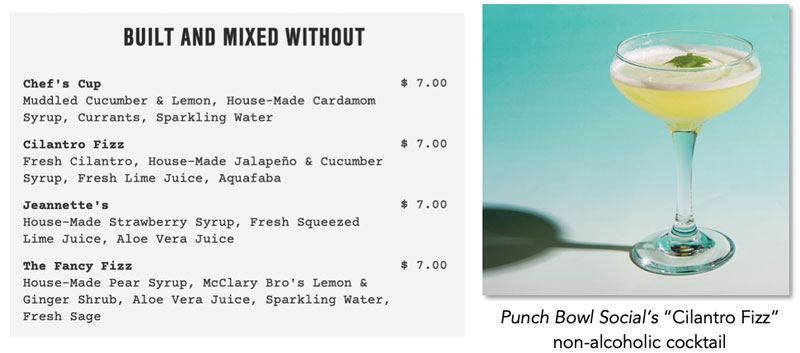 There has also been a riser in the popularity of paradoxically zero-proof spirts such as non-alcoholic Stryyk vodka, which is cashing in on young drinkers' desire to be seen drinking for social purposes.
In addition to zero-alcohol drinks, drinking low-alcohol drinks is on the increase.
When it comes to craft beer, people are getting tired of the heaviness of high-ABV (alcohol by volume) beers like double IPAs. They want beers that don't leave them feeling so full, plus they want the option of being able to responsibly drink more than one. The no- and low-alcohol beer category has been transformed beyond all recognition. Whereas once, the category was an "act of self-abuse" and "little better than drinking flavored water," with improvements in brewing techniques producers can now control the amount of alcohol created, rather than simply de-alcoholising the end product. The low- and no alcohol beers are thus able to retain their flavor.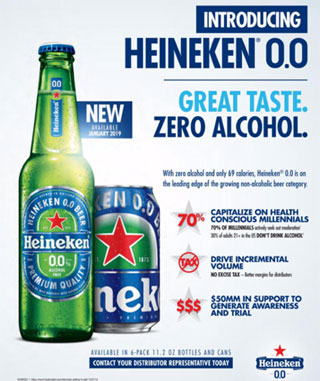 Beer companies large and small are launching non-alcoholic beers to match consumers' changing drink preferences. First launched in the summer of 2017, sales of Heineken 0.0 range no-alcohol beer are growing at a double-digit clip. Multiple brewers have announced the roll-out of NA beers in 2019.
Low-alcohol drinks are known as "session" drinks. When you see the term "session" applied to a beer, it essentially means that the drink is around 4% ABV and for low ABV cocktails, it generally means less than 1 ounce of high proof spirit, with the rest made up of lower ABV liqueurs and liquors, syrups, bitters, mixers and fruits. Session alcohol drinks allow you to drink a larger quantity of drinks over a longer session without getting drunk. Consumers are purchasing session drinks to reduce their alcohol consumption so they can still enjoy the same number of drinks and stay sober.
Restaurant and bar owners have realized they were leaving money on the table by not having low and nonalcoholic offerings, as they definitely boost tabs, especially during slower lunch periods when consumers are trading away from sugary sodas. Today, one in five low-or-no-alcohol products sold is replacing a soft drink, according to a survey by brokerage UBS.
The mindful drinking trend is here to stay and highly likely to grown in popularity.
Vol. XIX, No. 2, February 2019
---
---