Museums, Zoos, Aquariums, Botanical Gardens & Cultural Institutions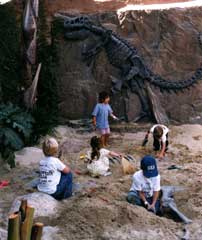 Dinosaur dig designed by White Hutchinson. Young children learn best and enjoy themselves with hands-on activities where their skills match the task at hand.
Families are an important market for museums, zoos, aquariums, botanical gardens and other cultural institutions. By its very definition, family means children. Our studies have shown that at most facilities, a significant portion of the children visiting are 9 years old or younger. Children 9 years and younger make up 14% of the 2000 US population and even a greater percentage in other countries. In 2000 in the US, 33% of all households had children. The majority of those households had at least one younger child.
Although most facilities target the family market for a substantial portion of their business, their facilities often fail to be truly family and child friendly.
Designing a quality and culturally appropriate environment for families and their children is a highly complex, specialized and unique skill. The physical environment; including its atmospherics, layout, equipment exhibits and furnishings; and the management of the facility has a profound impact on families' and children's fun, learning and behavior. Children of different ages have unique needs and interests. Parents needs must also be addressed.
The White Hutchinson Leisure & Learning Group understands the importance of having the design of the entire environment, including the building, equipment and its management, assist and support, rather than impede, children's fun and learning, parents' needs and enjoyment and staff's abilities to accomplish their jobs. We are an experienced child- and family oriented, multi-disciplinary group of professionals who work as a team to design and oversee the development of high quality and successful family and children's leisure and learning environments. Our staff includes an Education & Child Development Director with over 28 years experience with children's education and enrichment facilities.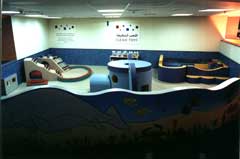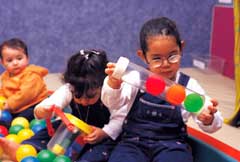 Infant/Toddler areas have special design considerations. This area designed by White Hutchinson
is in a facility with a mission of teaching children about preservation of dugongs.
With our focus and extensive experience in developing market strategies and designing leisure, edutainment, play, learning and enrichment facilities for families and children, the White Hutchinson Leisure & Learning Group has the specialized expertise to:
understand the unique needs of families, and especially woman and younger children,
understand how to set-up the logistics and facility to support enriching school field trip programs, including pre and post trip curriculum teacher support materials.
assist museums, zoos, aquariums, botanical gardens and other cultural institutions with developing strategies and designing renovations and additional facilities to appeal to this important family market.
We understand how to design the physical environment, operations and all aspects of a business to not only meet the needs of families and children, but also how to delight families so all family members will have an enjoyable and enriching experience and become apostles for your institution.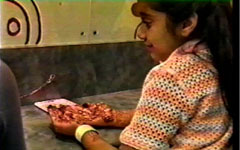 Children can experience the ancient and still practiced art of henna/mendhi at this do-it-yourself exhibit White Hutchinson developed for a facility in Arabia.
For existing facilities who wish to evaluate their family friendliness, we also offer the service of "Family Friendly Audits." Our highly skilled staff will conduct an audit of your facility over several days and prepare a report with recommendations of how improve your facility's appeal to families.
We have extensive experience in designing children's learning, enrichment and play facilities and family leisure destinations. See other sections of our web site for information about our work with children's edutainment centers, educational facilities, discovery and adventure play gardens, and family leisure destinations.
Also see our articles: