Restaurant & Eatertainment Project Experience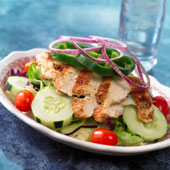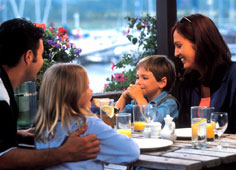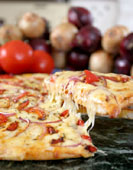 Our eatertainment (restaurant-entertainment) project design and consulting experience includes:
Table 47, South Puget Sound, WA
The polished casual Table 47 farm-&-sea-to-table restaurant is the eatertainment industry's newest and most cutting-edge restaurant. It is part of the Ocean5 complex in Gig Harbor, WA. The restaurant's name – Table 47 – is symbolic. The table is the social gathering place and '47' is because Gig Harbor is on the 47th parallel.
Table 47 is separated from the entertainment at Ocean5 with its own unique brand identity, its own entrance off the grand lobby and a separate website. However, its food and beverage are served throughout the entire facility. The restaurant was designed with a very casual, comfortable feel that appeals to adults, but where families feel they can also bring the kids.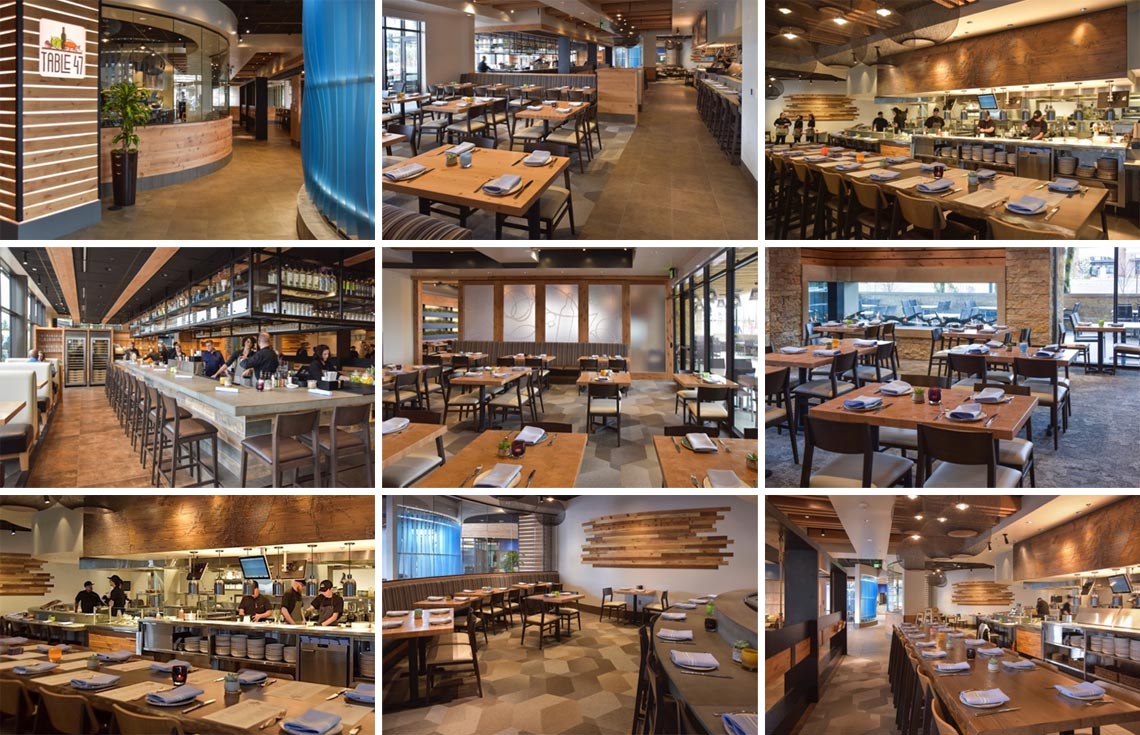 Table 47 has seating for 188 including the bar area plus a 28-seat coffee café and a 100-seat patio. The exhibition kitchen lets guest see all the cooking action and allows kitchen staff to interact with guests. One unique feature is the 12-seat chef's counter that looks into the kitchen, where special themed demonstration dinners will be held. The dining room features a large 2-sided see-thru corner fireplace that also serves the patio.  The coffee café offers premium coffee from a small-batch Seattle roaster, Fundamental Coffee Co.
The food and beverage sourcing is different than at most restaurants.  In addition to seasonal sourcing from as many local farmers, ranchers and fisherman as possible, the bar is sourcing its liquor based on three criteria – local, sustainable and taste. As a result, many of the big-name alcohol brands will not be found, but rather equal or better tasting ones from local and sustainable producers. Wine selections are mainly on tap in kegs from 14 predominantly local wineries. Beers also are locally sourced with 22 on tap.
Although you might expect to find Coke or Pepsi products, you won't find them at Table 47. They offer the local Seattle Soda cola and a selection of 100% natural sodas from Rocky Mountain Soda Co.
Environmental sustainability was a major focus for our design of the facility. The heating and cooling system is operated by 72 geothermal wells that total 3.6-miles in length. The geothermal system even heats the restaurant's patio and the meeting room lanai. Most of the carpeting is made from recycled fishing nets. Daylight harvesting was incorporated wherever practical to minimize the need for electric lighting during the day.
Doc Brundy's Delectable Diversions, Spanish Fork, UT
Doc Brundy's is a variation on the classic arcade bar. Since it is in a predominately Mormon market, the 16,000-square-foot eatertainment center was developed as an arcade soda fountain that also includes a scratch-kitchen restaurant combined with duckpin bowling, three party rooms and a larger group meeting room.
Like all our current eatertainment community leisure venue projects, food and beverage will be the majority of revenues at Doc Brundy's. We worked with our executive chef team to develop a very approachable menu that will work for both the sit-down restaurant area as well as for the bowling. The totally scratch-made menu includes such selections as Hog Wings, Bison Quinoa Meatballs, Signature Sunflour Crust Pizzas, "Not Your" Funeral Potato Soup (funeral potato soup is a classic Mormon dish). Turkey Bahn Mi Sandwich, Blended Bison Burgers, Chicken & Waffles and classics such a Chicken Tenders, Salmon Caesar Salad and Pan-Seared Sirloin Steak. The most expensive item on the menu is the steak at $19. And absolutely everything on the menu is available gluten-free at no extra charge. In fact, we developed recipes for most items so they were inherently gluten-free. And to be further allergy-friendly, the entire facility is peanut-free.
Focus group research with local Mormon women found they wanted mocktails, branded at Doc Brundy's as "Doc"tails. They've been a great hit.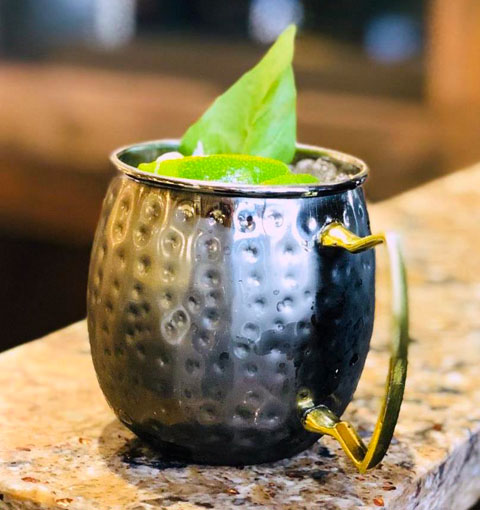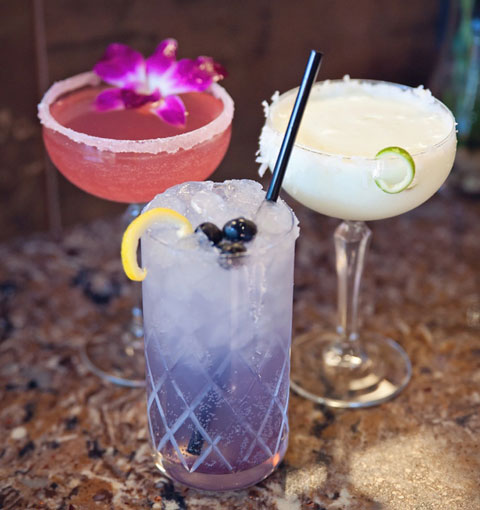 Doc Brundy's "Doc"tails, non-alcoholic drinks, from right to left – Strawberry Maiden Mule, Hibiscus Squeeze, Lavender Lemonade & Lime "Hello" Jello.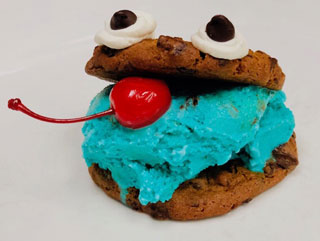 If you're going to have a soda fountain, you need to do it right. Doc Brundy's makes its own homemade ice cream. This allowed us to create the Cookie "Dough" Monster Sandwich with home-made blue cookie dough ice cream between two fresh backed chocolate chip cookies. The dessert menu also features a Hot Fudge Saturday since Mormon's don't work on Sundays, (Doc Brundy's is closed then). Of course, you can also purchase ice cream elixirs (some call them shakes) and ice cream sodas.
Oh, and all the sodas are 100% natural, non-GMO, gluten-free and vegan including unusual flavors such as Breckenridge Blueberry, Elderberry, Grand Mesa Grape and Pikes Peak Prickly Pear. There's no Coke or Pepsi. And yes, there's also no coffee or tea as that is not something Mormons drink.
StoneFire Pizza Co., New Berlin, Wisconsin
White Hutchinson conducted the feasibility and developed the brand concept, then went on to fully design and produce this 37,000 square foot, $10 million one-price, all-you-can-eat family pizza buffet-entertainment center with dining room seating for 460 plus eight private party rooms and about 12,000 square feet of family entertainment.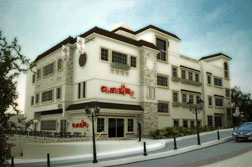 Positioned as a New Luxury offering, StoneFire Pizza Co. is the world's first family pizza buffet-entertainment center with stone hearth Wood Stone pizza ovens, a Pan-Asian wok station and a children's discovery play dining room (opened November 10, 2006). Read more...
Club Liko, 6th of October, Egypt
Our latest project under construction is Club Liko in the new city of 6th of October, a satellite city of Cairo, Egypt. The 4-story, 25,000-square-foot ladies club and children's play and discovery center will include two indoor cafes and two outdoor terrace-dining areas.
BellaBoo's, Lake Station, Indiana
This 22,700 square foot children's play and discovery center features a large indoor café and outdoor patio area.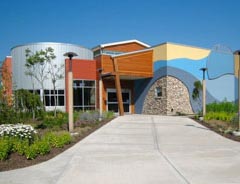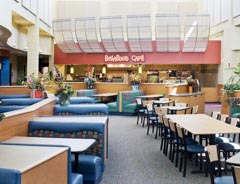 Astana, Kazakhstan
Completed market feasibility study and currently developing preliminary design plans, cost estimates and financial feasibility for a 6,000 square meter family buffet-entertainment center (restaurant + family entertainment) to be built on a site in this rapidly growing modern capital city in this ex-Soviet territory.
Knuckleheads, Wisconsin Dells, Wisconsin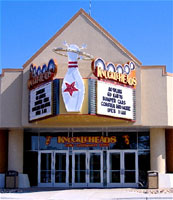 Developed concept, mix and preliminary plans for the 130,000 square foot indoor Knucklehead's Bowling and Family Entertainment Center eatertainment facility in the Wisconsin Dells that includes the 1000-seat Buffalo Phil's Grille Tex-Mex sit-down casual restaurant, a fast-casual restaurant and family entertainment center including indoor go-karts, bowling, rides, a fast casual cafe, 3-D simulation theater, rides and games.
Nibbles' Play Café, Wheeling, Illinois (metro Chicago area)
Conducted feasibility and full design for this 4,300 square foot stay-at-home mom's play café for mothers with preschool children opening late 2007.

Danville, Illinois
Completed feasibility and preliminary plans for a 35,000 square foot pizza buffet and entertainment center.