Vol. XIX, No. 3, March 2019
---
---
Brand purpose and the conscientious consumer
We've written a number of articles about a significant shift in consumer culture - how a brand's and/or a company's purpose and its environmental and socially responsible practices are now a determinate for many consumers (who we call conscientious consumers - see links to articles at end) of whether to do business with that brand and company,. In addition to the quality and price of a business' products, services and/or experiences, purpose is now part of consumers' purchase equation.
As our company works with development of our clients' projects to assure they are socially and environmentally responsible, we keep track of consumer research in that field. Here's findings from some of the most recent consumer surveys from highly respected companies that track the movement.
NMI surveys found that over two-thirds of consumers care about socially responsible businesses.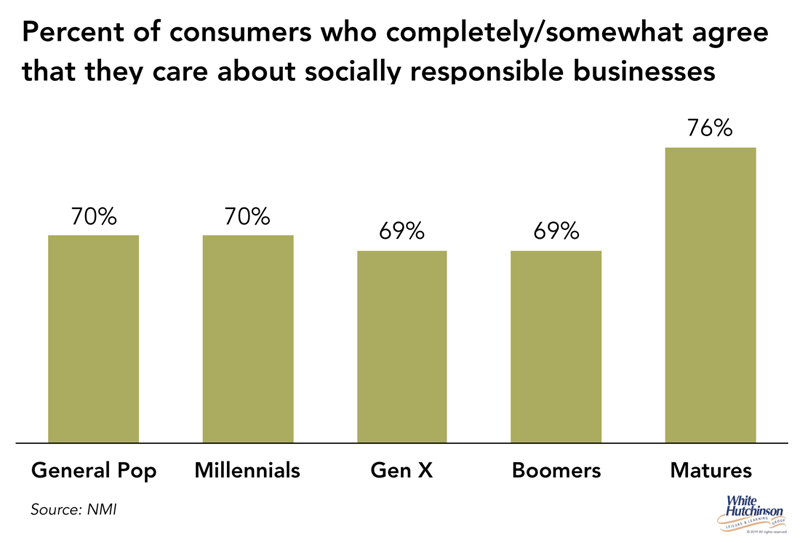 The percentage of consumers who have a preference for choosing an environmentally-friendly product or service has increased significantly since 2009.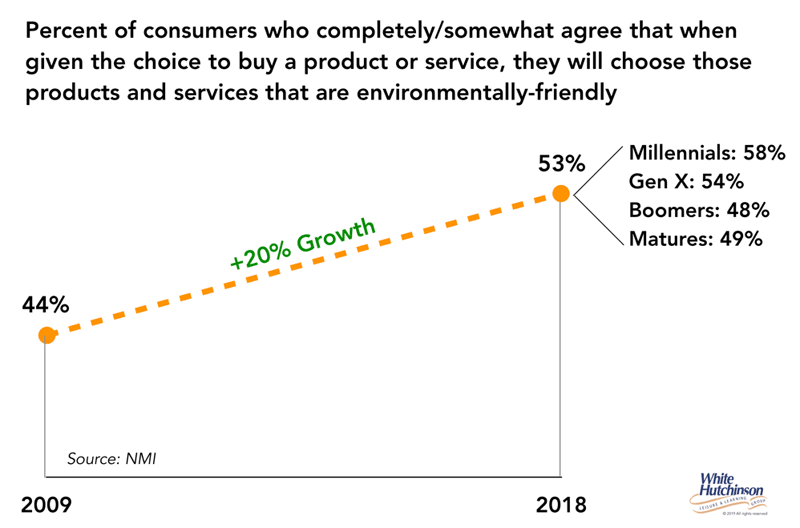 The percentage of consumers who feel they are now living a 'green' life has increased over the past three years, with the Mature generation now showing the highest percentage at 40%.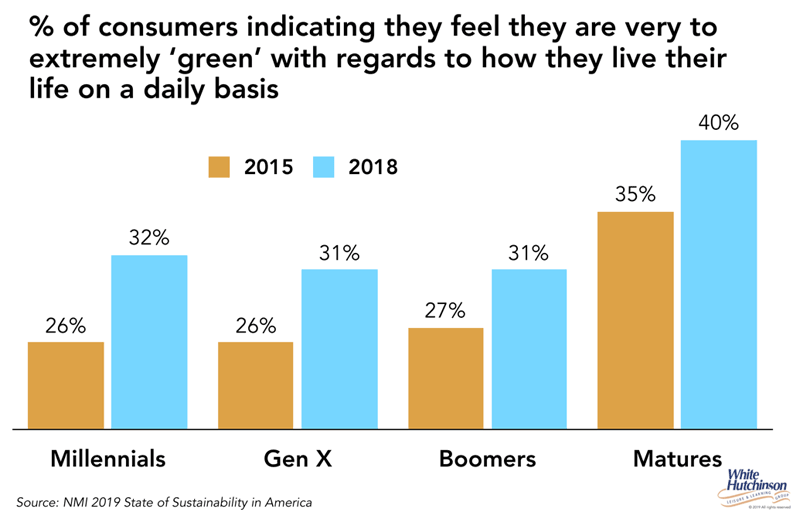 NMI's survey also found that one-quarter of consumers have stopped purchasing from a company after learning that the company did not practice environmental responsibility.
A recent Nielsen survey finds that majority (73%) of consumers say they would definitely or probably change their consumption habits to reduce their impact on the environment. Nielsen says there's a wealth of sales trends globally that show that products living in the sweet spot of "healthy for me and healthy for the world" are growing in demand.
Sheldon's Eco Pulse 2018 report found that 50% of Americans say a company's corporate social responsibility (sustainability and corporate citizenship) positively impacts their likelihood to purchase a product from a company.
And when it comes to food purchases, Datessential reports that 70% of consumers say they are more likely to buy foods described as "sustainable."
Being a good citizen business has become a competitive advantage, one that all types of out-of-home leisure venues should take advantage of.
Additional reading:
Vol. XIX, No. 3, March 2019
---
---