Vol. XIX, No. 7, August 2019
---
---
Big investment in immersive mixed-use entertainment by Kevin Williams
by Kevin Williams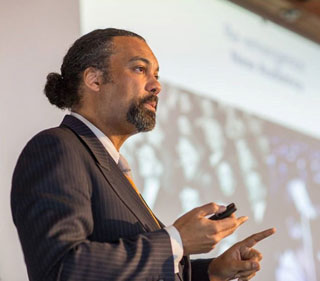 Charting the investment in the latest Immersive Entertainment Properties, especially those incorporating VR, that are seeing immense investment and support, we are pleased to have digital Out-of-Home industry specialist Kevin Williams of consultancy KWP, as a guest author. He collects the most recent developments from The Stinger Report, charting the trends, and looking at the real implications and opportunities that are appearing across the Digital Out-of-Home immersive entertainment landscape.
The Social Entertainment Explosion
There has been an incredible upsurge in interest in the entertainment venue business. How much of this is due to the explosion of social engagement at Community Leisure Venues (CLV) - or if this is a throwback to the reappearance of the "Staycation", on the back of the "Retail-Apocalypse." Whatever the reason, not since the late 90's have so many major investors and media powerhouses been seen to actively fund development - with major chains pouring their own investment into rolling out within this energized climate.
In covering the International Immersive Out-of-Home entertainment scene, it has become more than obvious that "Mixed-Use Entertainment" (MUE) venues (sometimes defined as Indoor or Urban Entertainment sites) have found a strong market interest. Partly spurred on by the interest in social engagement, partly by the move towards a stronger F&B culture with the new audience, but also partly supported by the availability of technology that can now offer a level of engagement, entertainment and immersion that once was found only in the theme park and attraction market.
It is no surprise that many of these new and established MUE facilities look to incorporate a large media-based entertainment technology component. Not just Virtual Reality (VR), but also Augmented (AR) and Mixed Reality (MR) platforms are being developed and deployed as part of the mix. Simultaneously the traditional elements of food, drink and fun are being remodeled along with impressive new e-payment platforms that offer a frictionless payment model to support this new level of engagement.
While the traditional amusement trade looks to re-inventing itself and attempts to justify a change in its "price-for-play," this MUE ascendance could circumvent the traditional amusement trade altogether and become its own industry. The expanded universe that the MUE has to offer (combining advance FEC, UEC and Eater-tainment), could totally rewrite the rulebook if able to survive. For this brief overview the key areas of recent investment have been split into three dedicated approaches.
The Experience Dynamic
This aspect of the business is split between those established entertainment facilities that are now seeing an increase in investment, and those new technology based "experience" venues - personified by LBE VR that are benefiting from the slump in consumer VR and offer a more tantalizing immersive entertainment experience.
Concerning the established facility chains - the news that Dave & Buster's would return to the stock market, while Ardent Leisure Group invested significantly in their Main Event US chain after taking a significant loan - all pointed to a restructuring of business. The news continued to see investment, with the announcement that Punch Bowl Social had entered a non-controlling $140 million investment from Cracker Barrel, while GameWorks receive new investment, partnering with professional services firm that specializes in real estate and investment management JLL.
Not all the news is rosy from the facility chain business - while some operations look towards new investment and flotation on the stock market, news broke of one operation changing its plans. It was revealed that the parent company of CEC Entertainment Inc., (Queso Holdings) had abandoned plans to merge with shell company Leo Holdings Corp. The planned merger had been proposed to facilitate the operation going public on the New York Stock Exchange. This would have comprised the 609 Chuck E. Cheese's units, also the 141 Peter Piper Pizza units - all comprising an extensive mixed entertainment offering valued at $1.4bn. No reason was given at the time for the termination of the business combination agreement.
Regarding the immersive entertainment aspects, Asian investment is seeing a technology landgrab with new start-up companies such as Hong Kong-based Sandbox VR raising some $68 million in funding, (including investors such as Alibaba), and following this announcement announced a partnership with Hollywood television and movie studio CBS Interactive, towards launching 'Star Trek Discover: Away Mission', on the Western version of their LBE VR platform.
And fellow Hong Kong-based Yunyou Holdings is investing 150 million yuan ($21million) into Chinese Player No.1 - a chain of Arena-Scale VR entertainment venues. Not to be left out, Japanese-based Tyffon raised some $7.8 million in funding (having seen previous investment from Walt Disney). All these operations are defining backpack PC VR experiences for audiences that are keen to be immersed in the virtual world are looking at Western facility rollouts.
The Hollywood Dynamic
Regarding that investment in immersive entertainment experiences, many using VR, comes on the back of investment by media powerhouses looking beyond the passive cinema experience (and declining North American box office), towards a new level of audience engagement. Cinema and movie industry investment has materialized in a new level of LBE VR development, looking at permanent location deployment.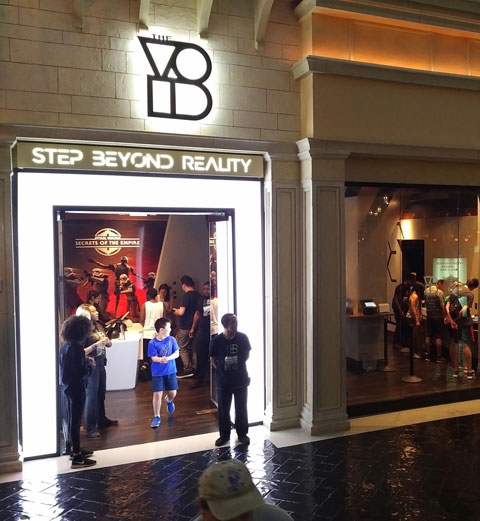 The VOID
in Las Vegas
Poster-boy of this development is The VOID, well known of the Arena-Scale (free-roaming) VR experiences out in the market due to their extensive investment from their partnership with Walt Disney and Lucasfilm's ILMxLab. With some 11 permanent sites in the market, the operation announced a partnership with Unibail-Rodamco-Westfield, owner of some 32 international retail shopping venues. This news broke only days after the announcement that media-mogul James Murdoch's holding company Lupa Systems had invested some $20 million into The VOID. Interest in this operation after seeing serious restructure of its management team with the CFO, CEO and much of the original executive team.
Another major developer of immersive adventures, and seriously funded by Hollywood hard hitters, is Dreamscape Immersive, recently closing a Series-B investment fund with some $30 million (with investors such as AMC Entertainment, MGM, WarnerMedia, IMAX, and Viacom, to name a few). The operation recently announced they would be fielding a new and immersive adventure based on the movie property called 'Men in Black: First Assignment', while at the same time announced plans for their partners AMC to roll out three new locations.
SPACES, another developer of backpack PC-based virtual adventures, partnered with Cinemark towards the opening of their Cinemark SPACES experience. 'Terminator Salvation: Fight for the Future', based on the movie property, installed in a San Jose Century 20 Westfield theater. While Nomadic, another developer of backpack VR experiences, revealed their own new 'Mission Impossible' movie property immersive adventure in development along with a new collaboration with owners of the soon to open Las Vegas 'Area15' entertainment facility - along with main tenant digital art collective Meow Wolf. Nomadic has opened its second facility in partnership with AMC in Dallas.
Brand and Licensing
The movie, television and toy properties are making a bee-line for the MUE scene with the likes of Lionsgate Entertainment seeing their brand deployed into FEC and themed attraction variants, with the 'Lionsgate Entertainment World' - movie-themed vertical theme park, opened at Hengqin Island in Zhuhai, China, and employing major VR attractions based on movie properties. Though not all has been clear sailing, with the 'Nickelodeon Adventure' centers concept failing to achieve a successful launch.
While the world's second-largest visitor attraction operator, Merlin Entertainments, famous for operating some 130 attractions in 25 countries, and also heavily investing into media attractions and location-based operations; was acquired by Lego owners company Kirkbi for some £4.8bn ($6.1bn) - taking full control of the operation and returning it to private ownership. It's interesting to consider that Merlin funded the first The VOID facility ('Ghostbusters Dimension') and opened the first VR theme park attraction ('Derren Brown's Ghost Train: Rise of the Demon'). This acquisition sent waves through the sector, coming so close behind the $71.3bn Walt Disney-Fox merger.
Major toy brand Hasbro International announced their entry into the world of family entertainment centers with plans to open the first 'Nerf Experience' center in Singapore, all as part of a partnership with US subsidiary, Kingsmen Xperience. Another major toy brand that has jumped into entering the FEC sector is Mattel - the operation opening their initial 'Mattel Play!' indoor facility's in Europe, the UK and UAE. This, the first part of a rollout plan for a much larger "Interactive Family Entertainment Center" (i-FEC) global network, starting in Toronto for 2020, developed in collaboration with iP2Entertainment.
Last year Cartoon Network, revealed a partnership with Indonesian real estate and hospitality investment company The MAJ Group to create FECs based on their brands. Cartoon Network dipped a toe into the waters some eleven years ago with their Kuwait-city project. And already a VR game has been developed by WePlayVR based on their properties for amusement deployment, ('We Bare Bears: Food Truck Rush').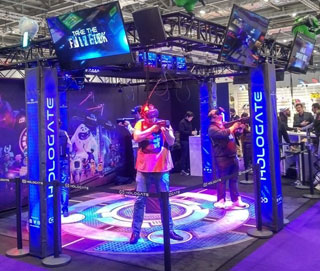 Concerning the hardware, one of the most successful selling standalone VR entertainment systems - HOLOGATE - has successfully partnered with brand owner ROVIO to develop a game based on 'The Angry Birds Movie 2' property. Along with their investment in other immersive providers, VR game developer SURVIOS recently brought its funding to over $50m with MGM as a major backer in this move (also having invested in Dreamscape). European developer HolodeckVR has developed their proprietary multi-user location-based VR experience business, raining in some €3million ($3.3 million) from strategic partner ProSiebenSat.1.
As we will see at IAAPA in Orlando this coming November, the deployment of VR technology into the entertainment mix has gained much ground, but while the investment in these new MUE properties takes the headlines - these VR entertainment machines have burnt through their investment, and we will see the cold hard reality of how well they actually generate revenue, in order to survive, away from the hyperbole.
So, this is a very basic overview of the influences that seem to be shaping this most recent upswing in investment into the MUE business. Not a day seems to go by without a new announcement regarding investment, or alliances in establishing this sector. The ripples will be felt across the entertainment business, begging the question, will it be the theme park industry, the street locations or amusement sector that will feel the first major upheavals?
About the Author - Kevin Williams, a leading specialist in the digital Out-of-Home entertainment industry, through his consultancy KWP Limited, specializes in interactive entertainment. Kevin comes from a long career in the theme park, amusement and entertainment software industries, being an ex-Walt Disney Imagineer. He is well known for his news service, The Stinger Report, that has become a-must-read for those working or investing in the international market. Along with this, he is also a prolific writer with regular columns for the main trade publications in this market, along with presenting numerous conference sessions on the sector and its global impact. He is also the co-author of the only book on this aspect of the market, "The Out-of-Home Immersive Entertainment Frontier" and is currently working on the next edition, scheduled for publication soon. To contact Kevin or subscribe to The Stinger Report, email him at kwp@thestingerreport.com.
Vol. XIX, No. 7, August 2019
---
---