Vol. XIX, No. 9, October 2019
---
---
Randy's travelogue
One of our latest projects took me to the island of St. Kitts in the Eastern Caribbean. St. Kitts is one of two West Indies islands separated by two miles of ocean that form the Federation of St. Kitts and Nevis. It is the smallest sovereign state in both land area (104 square miles) and population (57,000) in the Western Hemisphere. St. Kitts is the larger of the two islands at 23 miles long. It is located 1,300 miles southeast of Miami.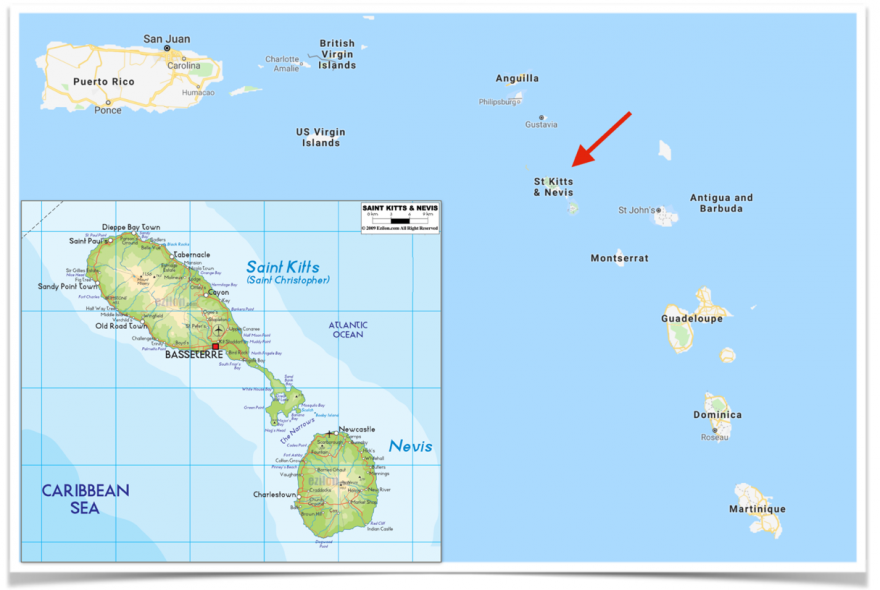 Christopher Columbus is believed to be the first European to sight the islands in 1493. Saint Kitts and Nevis were among the first islands in the Caribbean to be colonized by Europeans, more specifically the British who arrived in 1625. St. Kitts was home to the first British and French colonies in the Caribbean, and thus has also been titled "The Mother Colony of the West Indies."
For more than 350 years, sugar was the dominant industry on the island. After the discontinuance of its sugar cane industry in 2005, tourism grew to account for the largest share of the country's economy. The capital city of Basseterre on St. Kitts has a deep water port that attracts all the major cruise lines.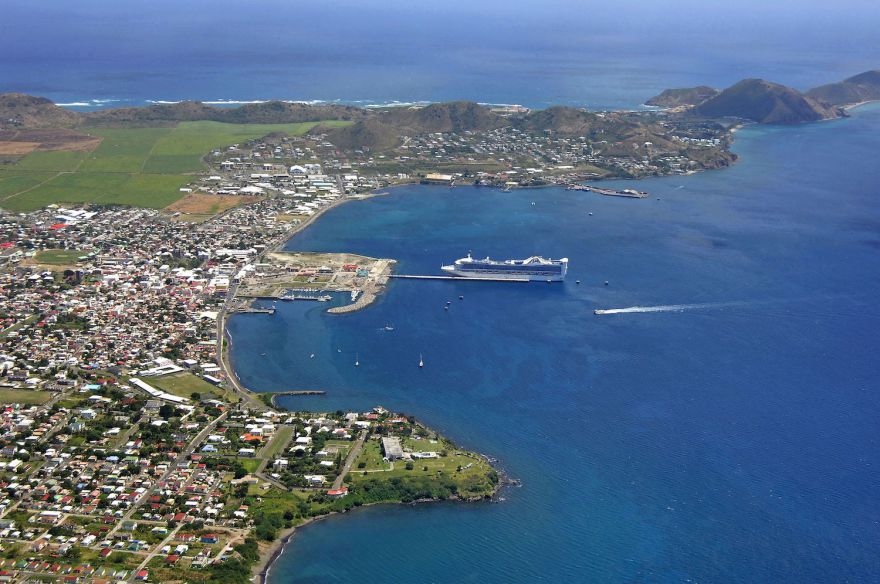 Basseterre, capital of the Federation of St. Kitts and Nevis
St. Kitts is a volcanic island (all are dormant). The tallest is Mount Liamuiga at 3,793'. The interior of the island is too steep for habitation. If you want to go from the western Caribbean Sea side of the island to the eastern Atlantic Ocean side, you have to drive around the perimeter of the island on its two-lane ring road that has no shoulders, with smaller roads branching off of it. As a result of the island's volcanic geology, many of the beaches are black volcanic sand and pineapples are one of its crops.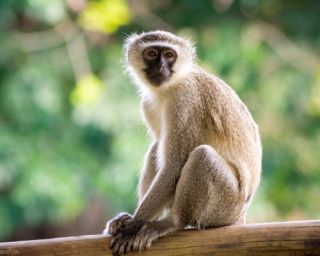 St. Kitts is known for its green vervet monkeys. It is reported there are more monkeys on the island than people. The green vervets were introduced to the island as pets in the 17th century when they were brought over with slaves from Africa. The monkeys mostly live in the mountain forests, where they feed off leaves, flowers, berries, fruit and insects. However, some have taken a liking for booze and regularly raid the local beach bars for cocktails to satisfy their thirst (we couldn't find anything on whether they prefer Caribbean rum drinks).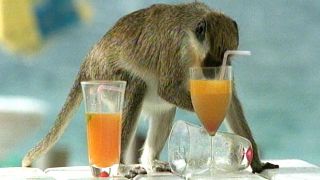 There are many posts on the web about the drunk monkeys of St. Kitts. It is believed they developed their taste of cocktails through eating fermented fruits. Here's a video showing the monkeys in action stealing cocktails
Working in a country that is no bigger than many small towns in the U.S. is very interesting. The people are incredibly friendly. I became convinced that everyone on St. Kitts knew at least one-quarter of everyone else living there. As our client told me, the culture is very tribal.
Our client originally envisioned developing a family entertainment center (FEC). However, our initial market feasibility analysis found that the population of families with children was way too small to support that type entertainment center. When our market research uncovered that over 1.0 million annual cruise ship passengers take day excursions on the island in addition to the significant overnight tourist market, we came to the conclusion that an adult-oriented, lifestyle social eatertainment center with social games, including bowling, that targets the combined market of residents, cruise ship passengers and overnight tourists would be very feasible. To capture the tourists, as well as have unique appeal to residents, the center is envisioned to include a farm-to-table restaurant that will have culinary tourism appeal with a menu and drink selection that not only celebrates the culinary heritage and traditions of the island, but also offers modern variations on it. The center will be unique, as plans are to incorporate a demonstration organic farm that can offer agritourism experiences and grow foods for the restaurant, with an emphasis on innovative and tasty plant-forward selections. We are also exploring a sustainable green building certification for the project.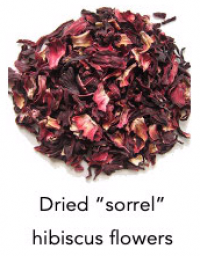 Much of our out-of-home entertainment center design and production work today involves the development of destination-worthy food and drink, as it has become critical to success for any entertainment-oriented venue. Part of my initial work on St. Kitts was to explore traditional foods. There is no better way to research that than to check out street foods. In St. Kitts you can find traditional street foods both at roadside stands and in open-air food courts made from shipping containers. Among the new foods I discovered was breadfruit, prepared in its different variations including fried, and a drink they call sorrel, which is not made from the Western sorrel herb, but rather made from dried Roselle hibiscus plant flowers.
This popular street food stand offered a variety of barbequed meats and roasted breadfruits.
Cutting the rind off the roasted breadfruit.
One of a number of open-air food courts found in St. Kitts made from shipping containers.
We're looking forward to working on this innovative sustainable lifestyle-type project in St. Kitts. I have no complaints about heading down there in the Winter, even though it can be a long journey requiring taking three different flights.
Vol. XIX, No. 9, October 2019
---
---