---
Healthy eating impacts ice cream sales
The trend toward healthier eating by American consumers is having an effect on virtually all food products -- even in traditionally self-indulgent categories such as ice cream.
Overall, ice cream sales have declined over the past two years. According to ACNielsen Strategic Planner data, ice cream sales volume has dropped 6.7% from a high of 4.68 billion pounds during the 52-week period ending May 17, 2003, to 4.37 billion pounds in the 52-week period ending May 14, 2005. (ACNielsen Strategic Planner monitors sales in the food, drug and mass channels, excluding Wal-Mart.)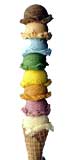 Still, ice cream is a tremendously popular treat. According to the ACNielsen Homescan consumer panel data, ice cream can be found in more U.S. households than toothpaste (86% to 85%). The U.S. Department of Agriculture reports that in 2004, 1.6 billion gallons of ice cream and frozen desserts were produced by American manufacturers. That's 21.5 gallons per year for every person, which means on average, Americans are eating about 1 2/3 quarts per week.
Ice cream manufacturers, intent on hanging onto all of those ice cream-buying households, are finding new ways to make ice cream healthier while still trying to maintain its satisfying taste. According to ACNielsen LabelTrends, sales of healthy ice cream categories, with the exception of fat free, have all increased in the last year:
'Healthy segment' ice cream sales
$ % change vs. year ago
Low fat
10.7%
Fat free
-8.6%
No sugar added
0.7%
Less sugar
510.2%
Sugar free
11.9%
Reduced calorie
21.8%
52 weeks ending 5/14/05
Ice cream is just one example of how Americans' food preferences are changing, with a strong movement to what is perceived as healthier eating.
So how does your favorite ice cream flavor compare with that of the average American? According to the International Ice Cream Council, the top five flavors in descending order are vanilla, chocolate, butter pecan, strawberry and Neapolitan.
The IICC also reports that in 2002, Americans spent $12.5 billion on ice cream and frozen desserts away from home (that's a lot of ice cream cones), compared to $8.2 billion on in-home consumption.
And if you're wondering just how popular ice cream is, here's the latest research on people's favorite foods:
Researchers at the Institute of Psychiatry in London think they have discovered the answer to why ice cream ranks is so popular for both genders.
Using functional magnetic resonance imaging (fMRI) to take pictures of the brains of research subjects before and after eating vanilla ice cream, researchers found ice cream lights up the brain's pleasure zones. "Ice cream has an immediate effect on parts of the brain that previous research shows responds to pleasure tastes," say the UK scientists.
Favorite Food
Women
Men
Fruits, vegetables and/or salads
30%
8%
Red meat
8%
25%
Favorite Deserts
Women
Men
Ice cream
47%
47%
Pie
28%
18%
This is the first research that shows ice cream makes you happy. The scientists didn't study chocolate ice cream. Who knows? That would probably show a double whammy to the happiness parts of the brain.
Here's something else to ponder. If ice cream makes people happy, then enticing them to have some ice cream before they leave your agritainment facility might create an even happier memory of their visit. Nothing goes together quite as well as a visit to a farm and ice cream.
---